Welcome to our webshop. Feel free to browse our products and customer photo's, and if you have any questions please use the contact form. We always have room for commissions of tails, ears and horns, so don't feel shy to ask for something unique!
The shop is currently closed for a short break. Want to be notified of the moment you can place a purchase again, sign up to my newsletter:
FAQ Regarding the Holiday:

Last date to place an order: 9th of July
I will be out of my office 1,5 weeks later so that should give me the time to process all remaining orders before I go.
Shop opens on the 9th of August.
When it does, it will have a 3-4 week production time rather then 2-3 weeks as a safety net when I start again, just in case there is a lot of work I need to catch up on.
Normal 2-3 week production time resumes on the 24th of August.
Will you still be online for contact about custom orders, regular Instagram updates ect?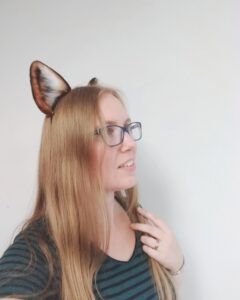 Absolutely! I will most likely be a little slower to respond (so if you have questions, be sure to be complete with all info to speed up the process) but I will otherwise do my best to stay up to date on communications.
Can I still place custom commissions?
Yes, but you will need to wait until I open shop again before I start, and production times are 3-4 weeks instead of the customary 2-3 weeks.
Can I still check the shop?
Yes you can. The entire website will be open to see, favourite items for future purchases and rummage through the collections, you will simply be stopped from placing an order.