Custom Costumes is based in the south of the Netherlands and run by married couple Eefke and Tom. The business was started in 2015 with it's debut on the Magic Fair in Limbricht with the first convention booth.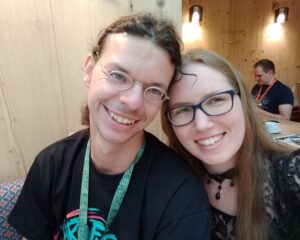 Eefke:
Fantasy nerd with a bachelors degree as Theatre Costume Designer. The seamstress, social media-expert, communications manager and runner of all day-to-day operations of the job.
Fond of everything with horns and also an animal/muppet lover.
Goals: To make the world cuddlier and fuzzier, one tail at the time!
Tom:
All-round creative guy, LARPer, fantasy lover and fursuiter. The driver, the alternative booth-babe and tester of products.
Goals: Be both badass and adorable in a fursuit.
The first booth and start of Custom Costumes back in 2015 at the Magic Fair.