Custom Costumes is based in the south of the Netherlands and run by married couple Eefke and Tom.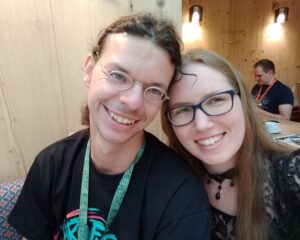 Eefke:
Costume designer and huge fantasy nerd. The seamstress, social media-expert, communications manager and runner of all day-to-day operations of the job.
Fond of everything with horns and also an animal/muppet lover.
Goals: To make the world cuddlier and fuzzier, one tail at the time!
Tom:
All-round creative guy, LARPer, fantasy lover and fursuiter. The driver, booth-babe and tester of products.
Goals: Be both badass and adorable in a fursuit.