Welcome to Custom Costume After Dark, where you can find your ultimate tail for your late-night activities!
How does it work:
Step 1: Add a pre-approved tail from the main shop to your cart. We only endorse light tails of 80cm or smaller, and without airbrushing for optimal weight and hygienic care! Anything outside of this list or a custom commission is allowed, but comes without warranty for the longevity and weight/comfort. The larger/thicker the tail the more 'advanced' it is. You can also opt for a Custom Commissions here!
Step 2: Add the After Dark Upgrade, for a replacement of the standard belt loops to a big snap fastener.
Step 3: If so desired, add the plug that this After Dark Upgrade was designed for. We carry 3 sizes! Then, it's off to purchase your combo!
Step 4: Take a nap and dream of the end result while we make your tail.
Step 5: Enjoy!
For specific Care Instructions on these products please visit here.
By browsing this part of the site and purchasing you have verified you are at least 18 years of age at the moment of browsing.
Discreet shipping! All items will be made to the main name of the business ' Custom Costumes' which is fully family friendly website (this part is accecable via link only), and all customs forms (outside of europe) will refer to the product as 'faux fur' or 'faux fur with attachment' or something similair.
The After Dark Upgrade here (18+ only!):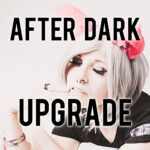 All our tails: